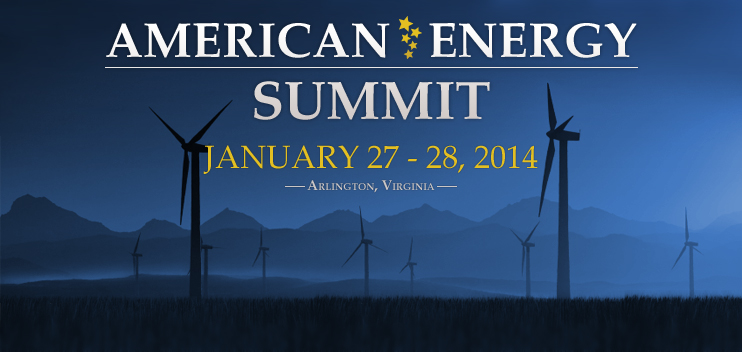 Our Energy Leadership initiative brings together the renewable energy industries, energy efficiency companies, energy R&D experts, the LNG industry, traditional energy, energy infrastructure protection experts, and government leaders at all levels to empower energy for the United States. Energy is not a partisan issue. We all want to cease our dependence on energy sources from dangerous parts of the world. We gather together our key stakeholders to identify the best solutions to achieve American energy independence.
At the AMERICAN ENERGY SUMMIT, scheduled for January 27 – 28, 2014, join key federal, state, and local officials; top military leaders; and leading business executives at this major national energy conference, where you will receive the latest details on:
• $50 billion being spent by energy companies to convert existing liquid-gas import plants in the U.S. into export plants.
• The U.S. government process for approving new projects for LNG exports.
• Billions of dollars for new renewable energy and energy efficiency programs for the U.S. Department of Defense, including the $7 billion U.S. Army MATOC awards.
• Billions of dollars in new contracts for new energy projects with the U.S. Department of Energy, U.S. Department of Transportation, U.S. Department of Agriculture, and other major federal agencies.
• New opportunities to participate in thousands of new energy programs and contracts being created by state agencies throughout the U.S. In 2011 alone, members of the Clean Energy States Alliance supported nearly 33,000 clean energy projects across the country.
• Local energy mega projects, including Sasol spending $21 billion in Southwest Louisiana and Cheniere Energy Partners spending $12 billion in Cameron Parish, Louisiana.
• How to win new government and private sector energy contracts.
• How to obtain financing for new energy projects.
At general sessions, workshops, roundtables, receptions, networking, and the exhibition, meet key federal, state, and local energy decision-makers as well as leading corporate and financial executives.
WHO HAS ALREADY REGISTERED? Congress, U.S. Department of Defense, U.S. Department of Energy, U.S. Department of Transportation, U.S. Department of Agriculture, U.S. Department of Homeland Security, U.S. State Department, GSA, NASA, DASN 1 GW Task Force, Naval Facilities Engineering Command, U.S. Coast Guard, Smithsonian Institution, ARPA-E DOE, GE, Schneider Electric, S&C Electric, Ameresco, Emerson Electric, SolarWorld, Standard Solar, REC SOLAR, Enervation, Pepco Energy, Raytheon, Pillsbury, ABB, Black & Veatch, Philips, Hannon Armstrong, Constellation, Power Analytics Corporation, Telkonet, MIT, National Defense University, Naval Postgraduate School, and and many more agencies, companies, and organizations.
Sponsorships are still available but time is running out. Request a sponsorship prospectus today: info@leadershipforum.us
For more than a decade, the Summit organizers have brought together more than 48,000 leaders to identify solutions to our critical issues. More than 1,000 speakers have participated.
In 2008, the Summit organizers were major partners of the U.S. State Department, helping to organize the largest renewable energy conference in U.S. history. President George W. Bush was the Keynote Speaker. BP was the top sponsor.
In 2010, we organized the first two national conferences on the BP oil spill, providing the latest information on damage assessments.
In 2011, we organized Louisiana Energy Day, a major forum featuring top industry and government leaders, speaking on:
Exxon Mobil's announcement that it has made the biggest discovery in the Gulf of Mexico in more than a decade, projected to produce the equivalent of 700 million barrels of oil. The discovery will generate billions of dollars and create thousands of new jobs.
Shell's announcement of its multi-billion-dollar investment to develop its major Cardamom oil and gas field in the deep waters of the Gulf of Mexico.
New oil spill response plans and technologies, including the latest from the Exxon-led response consortium.
New energy measures, following al-Queda's announcement that it is targeting U.S. oil and gas infrastructure for future terrorist attacks.
Opportunities to provide clean energy, green buildings, and energy efficiency solutions for U.S. military installations in Louisiana, responding to new federal mandates.
Smart Grid developments for Louisiana.
New Louisiana solar energy tax credits.
New government grants and programs for the Louisiana energy industry.
Congressional and state legislation affecting the Louisiana energy industry.
How the Louisiana energy industry is giving back to communities and people.
U.S. Senator David Vitter was the Keynote Speaker.
In 2012, we organized the first CLEAN DEFENSE SUMMIT, featuring top officials from the Office of the Secretary of Defense, U.S. Air Force, U.S. Army, U.S. Navy, Defense Logistics Agency, and local military installations. In April of 2013, we organized our very successful second annual CLEAN DEFENSE SUMMIT.
Hundreds of top corporate executives have participated in our CLEANDEF events, which have also included quarterly CLEAN DEFENSE Briefings and our annual Capitol Hill Defense Energy VIP Reception.